We offer a number of convenient and efficient ways to pay your bill. Choose the method that is right for you.
Never be late again. Funds are automatically withdrawn from your bank account – there's no extra cost and you don't have to worry about postage. Simply complete our online form, print it out, and send it to us along with a "Void" cheque and we will take care of the rest. We offer two options for pre-authorized Payments:
Full Payment on Due Date
The full amount of your bill is automatically withdrawn from your bank account on the due date of the bill each month.
Equal Payment Plan (Residential Customers Only)
If you like to know what expenses are coming up, and prefer even monthly payments, then our Equal Payment Plan service is the right fit for you. We estimate your average monthly consumption over 12 months and set an average monthly payment amount. We review your payment amount twice per year to ensure your payments are on track.

Pay Through Your Financial Institution
Most financial institutions allow you to pay your bill in person or using telephone or online banking. If paying online, be sure to provide the full 18 digit account number (excluding the " – "). Ex. 000012345000067890.

Pay by Mail
You can send your payment to us by mail using the return envelope provided with your bill. Please be sure to allow enough time for your payment to arrive at our office before the due date on the bill.

Payment Depots
You can pay your bill in person at the following locations:
Acton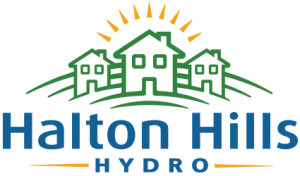 Halton Hill Hydro
43 Alice St., Acton
Monday-Friday 8:30 – 4:30 excluding holidays
For your convenience, we also have a Night Deposit Box located next to our main doors. Halton Hills Hydro WILL NOT be responsible for cash payments placed in the night deposit box.
Georgetown

Young's Pharmacy & Homecare
45 Main St. S, Georgetown
Monday – Friday 9:00am until 9:00pm
Saturday 9:00am until 6:00pm
Sunday 11:00am until 4:00pm
Closed on statutory holidays.